After several months of development, we have soft launched our website solution for nonprofits. GivingPress is currently accepting early applicants, providing them with 3 months free service!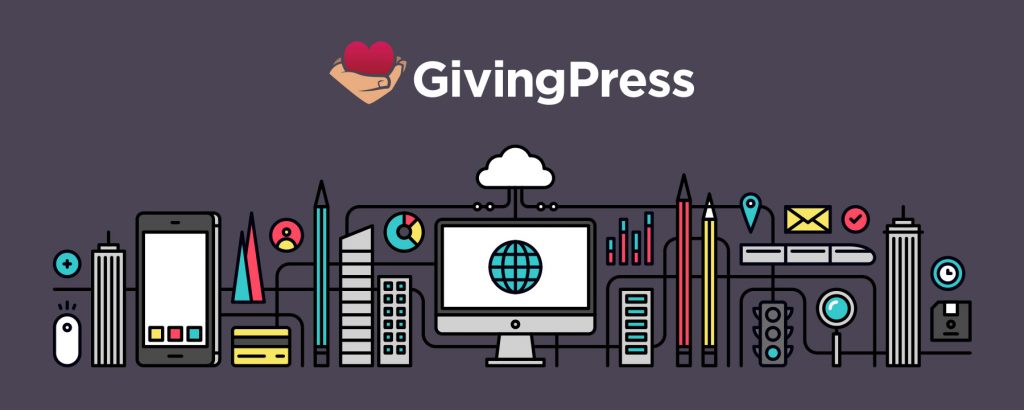 What Is GivingPress?
In short, GivingPress is a full WordPress website solution for nonprofit organizations.
With a website from GivingPress your nonprofit will receive all the essential tools needed to create a successful website. Your site will be hosted in the ultra secure cloud hosting environment from Amazon Web Services with SFTP access to your server. In addition, your website will feature a beautifully designed and customizable template capable of accepting donations, creating fundraisers, events and projects, showcasing staff and board members, promoting news, selling products and more.
In addition to adding new features, integrating services and providing customer support, our team is continually maintaining and updating the GivingPress software. With GivingPress, your website will always be at the forefront of web technology.
Our Experience
GivingPress was founded by David Morgan and Jeff Milone. We have several years of experience creating websites for nonprofit organizations. We founded the popular WordPress theme company, Organic Themes, as well as the hosting company, Kahuna Host. Organic Themes was among the first and most successful WordPress theme companies.
Our popular NonProfit Theme has been used by thousands of organizations for their website solution. The positive response to our NonProfit Theme sparked a passion to create a better website solution for nonprofits, and the concept for GivingPress was born.
In addition, we have released the Organization Theme on WordPress.com for nonprofits. More recently, we have released the free  GivingPress Lite theme within the WordPress theme directory.
GivingPress founders both have a history of working with nonprofit organizations.
Jeff was the technology advisor on the board of the Leroy Homer Jr. Foundation. A nonprofit that was created in honor of Leroy Homer, First Officer of United Airlines #93 when it crashed in Shanksville, PA on September 11th, 2001. The foundation provides scholarships to students interested in a career in the field of aviation.
David was the technology advisor for AIDC, a nonprofit that worked to develop the agriculture of third world countries through education and training. He also manages and maintains the website for the Sophie Deloria foundation, created in the memory of Sophie Deloria. Proceeds from the foundation go towards improving school facilities in Maui county. In addition, David has volunteered time to designing brands and websites for other nonprofits.
We believe our track record of creating successful businesses within the web software industry, in addition to our personal experience working with nonprofit organizations makes us perfectly suited to create this website solution for nonprofits. We're excited about providing small to medium sized nonprofits with a complete and powerful website solution at an affordable rate!