Since the launch of GivingPress, we have been exposed to a variety of great organizations, and are continually blown away by their selfless acts of kindness. Recently, we were introduced to BirthWaves. The kindness and empathy of their nonprofit services deeply moved us.
So this week, we would like to spotlight the B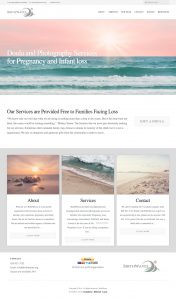 irthWaves nonprofit organization. They provide doula services specializing in pregnancy and infant loss. Doulas are trained professionals, or birth companions, who provide emotional and physical assistance throughout pregnancy, childbirth, and into the postpartum phase. BirthWaves is a network of certified doulas who provide a variety of services to grieving mothers and families who have lost a child to miscarriage, stillbirth, or infant death of any cause. These incredible women offer their unconditional support 24/7 to all families at absolutely NO cost to the family, regardless of income, religion, or any other factor. The nonprofit organization does rely solely on donations from the community, but all of these amazing services are absolutely free to families in emotional need.
According to the BirthWaves nonprofit website, research shows that 10-25% of pregnancies in the U.S. end in miscarriage, resulting in an astounding 600,000 miscarriages per year. In addition, there are approximately 25,000 stillbirths a year. It is hard to imagine the emotional effect these numbers play on hundreds of thousands of mothers and families across the nation. If there's any silver lining to be found, it's that these compassionate women are willing and available day or night to provide comfort and support any way they can. The free doula services provided range from early stages of pregnancy, labor and delivery assistance, postpartum support — including light housework and meal preparation for recovering mothers. The bereavement doulas even help with funeral arrangements for the family in efforts to ease the painful process of losing a child. We personally appreciate BirthWaves selfless, inspiring cause and for making a difference in the world and the lives of so many families.
For more information about this incredible group of women and to offer a donation to their cause, visit the BirthWaves nonprofit website.