Think of your website as a house, and pages as the rooms in it. "Page templates" are a room's decor and layout. See, just as not every room in a house looks identical, not every page on your website has to look identical, either. That would be boring!
When you add a page, GivingPress automatically defaults to a beautiful, simple layout. However, if you want to take your page to the next level, that's when templates come in handy. Page templates help make your website look a whole lot more interesting (therefor increasing the likelihood of visitors to stay on your site longer and maybe, you know, donate)!
Here, I'll give a brief description of each GivingPress page template option.
---
Archive Template
Allows you to create a "site map" for SEO purposes and navigation. The site map has lost popularity over the years, but if you're old school, you might consider it a necessity!
Is often used within the footer of a website:

Pages > + (add new page, title, apply Archives Page Template, Save & Publish)
Menus > Add a Menu > check box called Footer Menu > + Add Items
To the right, select the "site map" page you created in step 1
Save & Publish
---
Blog Template
Intended for blog posts or news
Recent posts will display in chronological order (most recent post will show at the top)
Can be applied to any page; your blog posts will then automatically show up on that page:

Within chosen page, apply Blog Template
Save & Publish

To add new blog posts:
Within customizer > Blog Posts
Click "+" button to add new
Add title and featured image (optional).
Write up your post in Open Editor
Save & Publish
---
Full Width Template
Extends page layout to width of page
Clean, simple design
Wide Width Template
Extends page layout and written content to width of screen
Another clean, simple design
---
Home Page Template
Used to designate your chosen page as your Home Page (the very first page visitors are directed to when they visit your website).
If your website were a book, your Home Page would be the cover (the other pages would be, well, pages).
While you may choose to create a separate page called "Home" to display in your main menu (this way is preferred by many for better organization), it is not necessary; you can apply this template to ANY page.
---
Landing Page Template
Used for pages that are "under construction"
Can be applied to pages created that you have started but aren't ready to publish yet
---
Left Sidebar Template
This one's self explanatory; however, you'll have to ADD a custom left sidebar:

In customizer Sidebar Widgets > Left Sidebar > + Add a Widget
Choose as many or as few widgets you would like to add to your Left Sidebar
Save & Publish
---
Projects Template
Helpful to use when displaying a collection of items, such as different projects or events
When a user clicks each page, they are directed to the full profile of each project
To add projects to a page:

 Within customizer > Projects > + (to add new)
Add Title, Featured Image, and Content ( > Open Editor)
Save & Publish
Within customizer > Pages
Select the page you want to apply the Projects Page Template to, or create a new one
Save & Publish
*Note: You can customize your projects layout within the customizer's Advanced Settings. This allows you to choose the number of columns you would like displayed.
---
Slideshow Template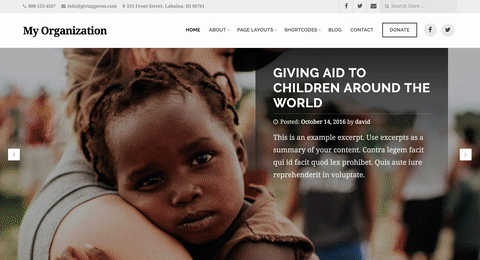 Allows you to create an image slideshow at the top of your page
Add as many images as you want!
Users can scroll back and forth between images
Within the customizer's Advanced Settings, you can customize your slideshow transition style (images can either "fade" or "slide"), and also the image transition interval timing
GivingPress makes it very simple to add a slideshow to your Home Page. (note: you can add a slideshow to other pages, too). Each slide is a featured image with the option to add content on top of the image.
To add a Featured Content Slideshow on your Home Page:

Within customizer > Featured Slides > "+" button to add slides
Add a Title, Featured Image, and Excerpt (optional) for your slide
Repeat this for as many slides as you like; Save & Publish

To add the slideshow template to a different page:

After applying the Slideshow Template to the page you want, start adding slides:
Within the page > Open Editor > Add Media > Create Gallery (top left in red)
Select images you want to add > Create A New Gallery > Insert Gallery (bottom right red buttons)
Save & Publish
---
Team Members
Will allow you to build a page for your staff
Allows you to add a profile and photo for each individual team member of your staff
To add a team members page:

Within customizer > Pages > "+" to add your new page
Title your page and apply the Team Members Page Template
Add a featured image or written content if you wish
Save & Publish

To add team members to the page:

Within customizer > Team Members > "+" button
Add your Team Member's name in the Title field
Add a bio within Open Editor content editor
Add a photo of the team member within Featured Image
Additional options:

Add team member's position or title within Member Title field
Add personal links to social media or email within suggested fields by copy/pasting URLs.
Add a descriptive phrase within Excerpt field.
Add an order number in Order field (this is the order in which each member's profile will appear on your Team Members page).

Save & Publish
---
Three Column Content
---
Two Column Content
---
Two Sidebars
Displays two sidebars on your page (one on the left, one on the right)
When you apply this page template, the right sidebar will display by default, but you'll need to add the left sidebar manually. The instructions below will help you to add and customize your sidebars:

Within customizer > Sidebar Widgets (a widget is an item or small sections that can be displayed in a sidebar, such as a calendar, comments section, or recent blog post section)
Add the widgets you would like to use in each sidebar (select either Left Sidebar or Right Sidebar) > + Add a Widget button
Add as few or as many widgets as you'd like; Save & Publish